We all used colored pencils as kids. It was fun to just mindlessly doodle across the paper with different colors. Or maybe even filling in a coloring book for hours on end.
Some may think that colored pencils aren't practical for making real art, but you just need to know where to look. Colored pencils are great for creating impressive works of art. They offer amazing control to artists looking to make their creations vibrant. 
But the colored pencils from elementary school won't do the trick anymore. They'll snap, leave wax all over the paper, and hinder your ability to express yourself.
Here are some key aspects of an effective set of colored pencils:
Permanence. Colored pencils with high-intensity pigments tend to last longer on paper. Cheaper colored pencils will "break down" at a faster rate and the color will quite literally fade away/fall off the paper.
Quality. High-quality materials are a must when it comes to colored pencils. The materials will directly be responsible for how durable the pencils are. If cheaper materials are used, then your colored pencils will constantly break and you'll always be getting new ones. It's better to invest in one or two high-quality sets that are reliable.
Color range. A great set of colored pencils should give you plenty of options. Nothing sucks more than not being able to find the right color for your artwork.
There are two types of colored pencils: oil-based and wax-based. It's important to know the difference between these two.
Wax-based colored pencils are far more popular. They're often soft and delicate. They work by leaving a "buttery" colored mark when dragged across the paper. This means that they layer nicely and can provide a nice texture. 
One thing to note about these pencils is that they are prone to wax bloom. Wax bloom is the process in which the waxy binder builds up on the paper. This can easily be cleaned but it is something to note when considering a purchase. They also break easier than oil-based pencils.
Oil-based colored pencils aren't as popular as wax-based pencils, but this doesn't make them insignificant or ineffective. They're hard and high-quality pencils. They don't break as easily and can often keep a sharper point, perfect for precision.
We're going to go over the best colored pencils of 2022.
It's not hard to see why this set of colored pencils has a 5-star rating across 3,000 reviews! These premium colored pencils are made in Germany, with high-quality materials.
These pencils are available in five sets, ranging from 12 to 120. The presentation of the pencils is simply beautiful and the work you can create will be beautiful as well.
Artists note that this pencil is easily erasable.
Check out this set of pencils on Amazon.
Amazon's own Amazon Basics brand carries a great set of colored pencils. These pencils are perfect for sketching. They're not the ideal pencils for working on an art piece but they're perfect for sketching out a quick idea.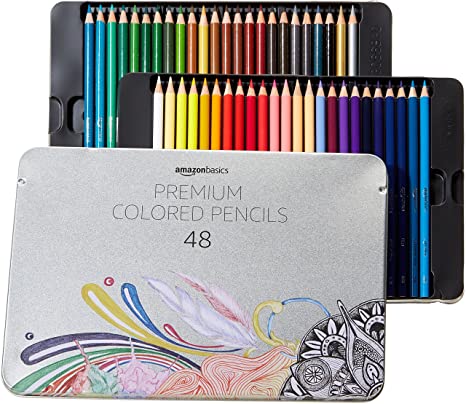 The wooden pencils are soft for rich pigment smooth application. They come in a sturdy tin case with a built-in tray to keep everything organized. If you like sketching outside then you won't have any trouble carrying this set around.
Click here to see this set of pencils on Amazon!
There's a reason the Crayola brand is in almost every school ever. They consistently make high-quality materials for children to explore their creativity.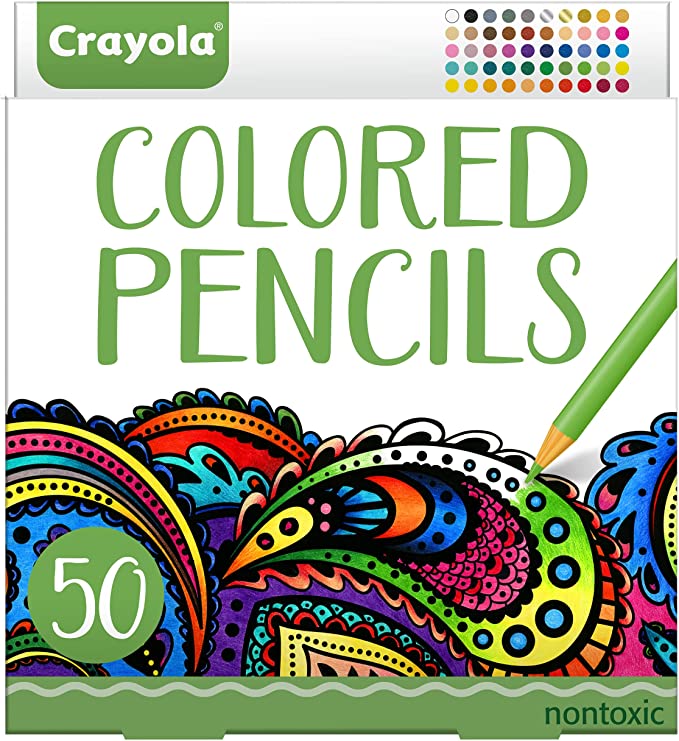 These colored pencils are safe and nontoxic. They're easy to hold and sharpen. They come in sets of either 50 or 100. Take your pick, both sets have a great range of colors!
If you're looking for a nice set of durable colored pencils for kids, then order this Crayola set here.
This set of colored pencils is for artists who are serious about creating amazing work. This set of colored pencils is high-quality pencils that will let you express yourself.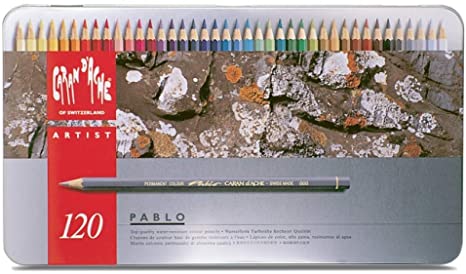 The wide color range and vibrant pigments are beautiful to look at. The pencils flow freely on the paper and have a nice weight to them. 
If you're ready to up your art game, then check out this set on Amazon.
Oil-based colored pencils have so many advantages. They can really enable you to create wonderful pieces of art. This set from Prismacolor is ideal for outlining, detailing, and lettering.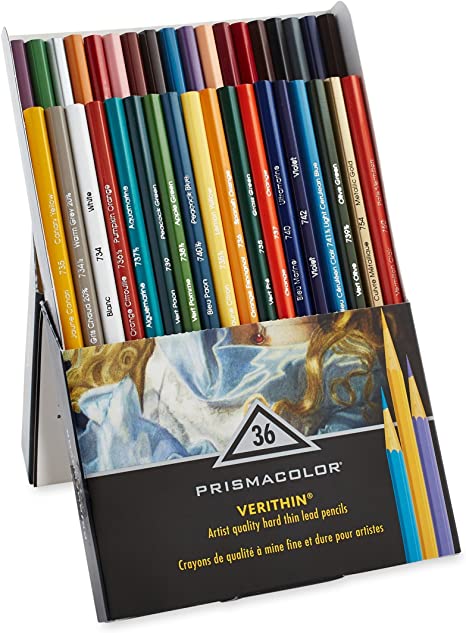 The high-quality pigments will leave beautiful marks on the paper. They offer great control and are easy to sharpen/maintain.
Take a look at this set on Amazon.
Prismacolor makes our list again but this time with their wax-based colored pencils. This set has vibrant colors that are easy to apply.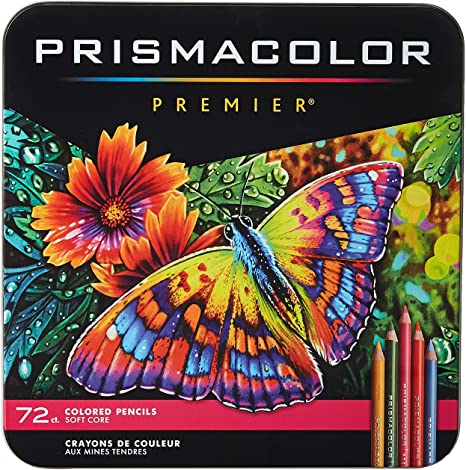 The pencils are extremely soft but they can still last a long time. 
This set comes with 72 colors but there's a set that comes with 150.
If you're looking for high-quality, American-made colored pencils then this is the set for you.
This set of colored pencils from Zenacolor is for artists on a budget. The pencils aren't of the best quality, but they'll get the job done. The pencils are durable so you won't have to buy new ones again anytime soon.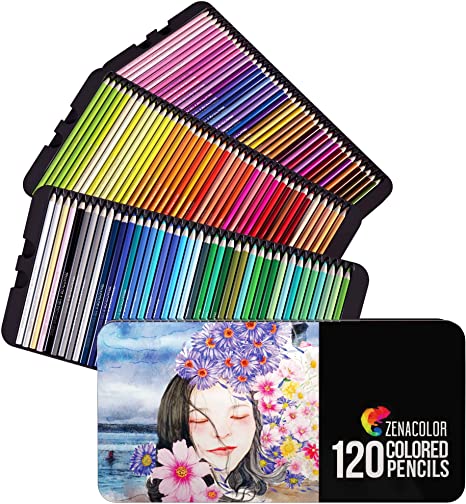 Order this set from Amazon here.
We've been over a ton of great options in this list. But, if you have the means to do so—then you should splurge on this set of colored pencils from Caran D'ache.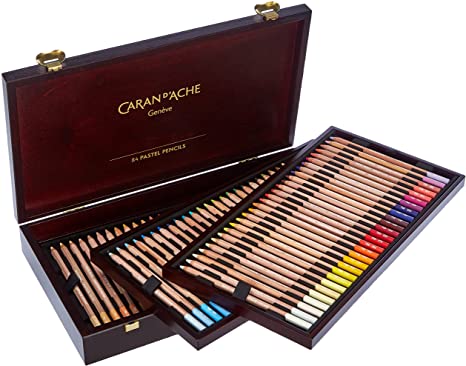 Using this set is a premium experience like no other. From the moment you open the package, you're greeted with a luxurious wooden box. The box securely holds every last pencil in place.
And speaking of the pencils themselves—they're fantastic. Vibrant, diverse, and blendable. The high-quality materials feel great in any artist's hand and they have a nice weight to them. Using them is fun and easy, but there's still that level of control that artists need.
Take a look at this set on Amazon here.
Final Thoughts
With so many options out there for colored pencils, it could get confusing. We hope this list narrowed down your options.
If you're looking to complete your art arsenal, then check out this post we did about the best drawing pencils of 2022.
---