Wood carving is a challenging hobby or profession that can get pretty dangerous. You need to put all of your effort into the craft, so worrying about safety only holds you back.
The proper safety equipment could enable you to do better on the job. You need the right gear to keep your hands and eyes protected while you work so that you can carve with confidence.\ \ Read on to learn about 6 industrial wood carving safety gloves and glasses.
The Best Safety Gloves for Wood Carving
Safety gloves are essential to keeping your hands safe from hazards. Here are some of the best safety gloves for wood carving.
Best Light-Duty Wood Carving Gloves
People that are doing light-duty work might not need the absolute best protection out there. Higher protection might be too expensive or just overkill.
But still, you need something to act as a line of defense. Light-duty gloves are important for providing protection while not sacrificing precision or dexterity.
People doing light-duty work or just trying out the hobby might not need the best protection out there. Still, though, something is better than nothing. These gloves are perfect for people getting into the hobby.The anti-cut Halo gloves are lightweight, comfortable, and durable. They still protect you, though! They're ANSI Cut Level A2 certified for light to medium protection from cutting hazards.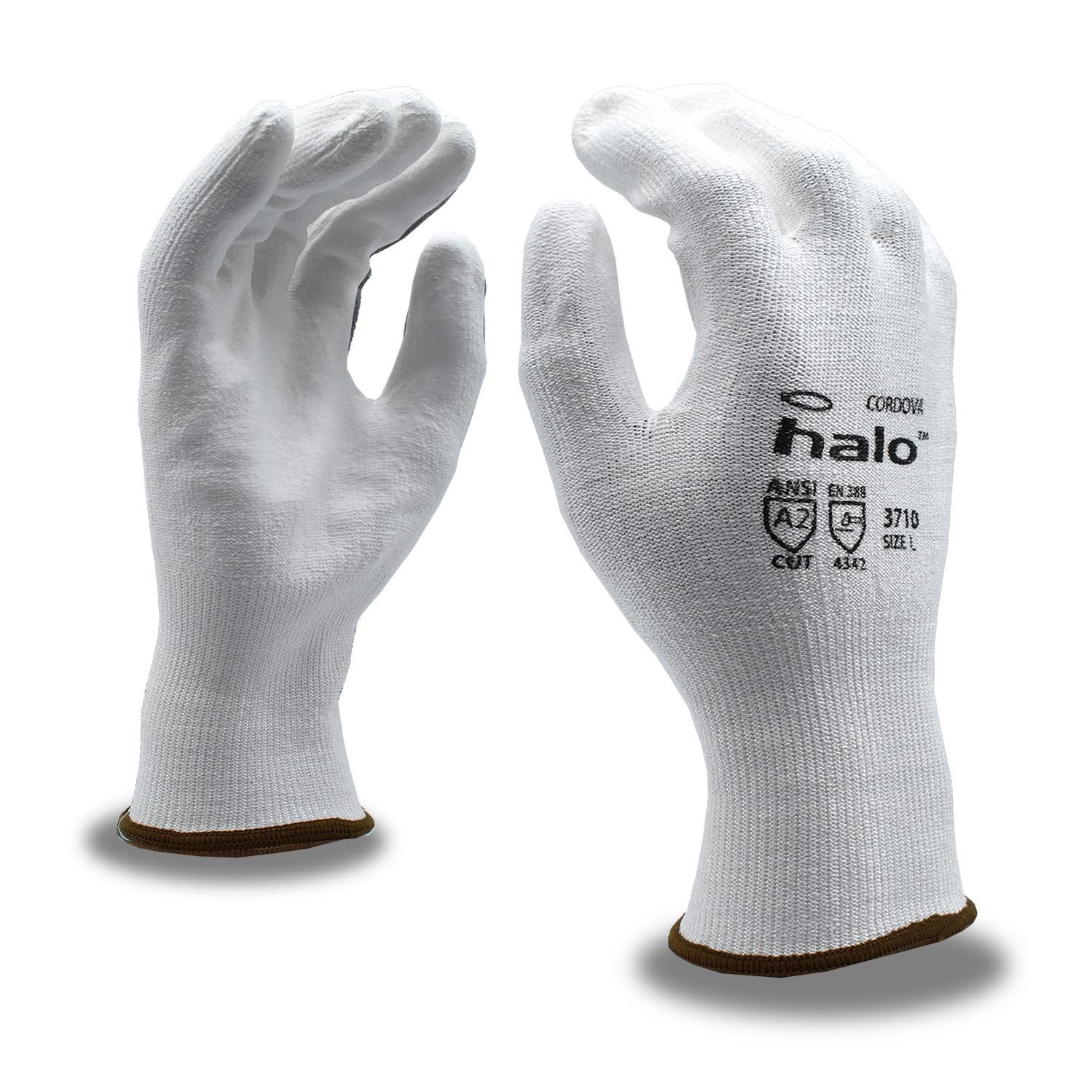 Click here to check out the gloves on Amazon.
Best Hi-Vis Wood Carving Gloves
High-visibility protective gear is important when working around others. The hi-vis color allows your hands to be easily seen. This ensures that nobody else will bring active tools or machinery near your hands. Being near dangerous machinery without any sort of protection is a recipe for disaster.
Hi-vis options are also important for making compliance checks at the workplace quick and easy. High-visibility safety gloves for wood carving can make it easy to ensure that everyone's being safe.
The high-visibility Ion-HV gloves are the best option for being seen while being protected. They're ANSI Cut Level A4 certified for protection from medium cutting hazards. These gloves even feature special coating for enhanced grip.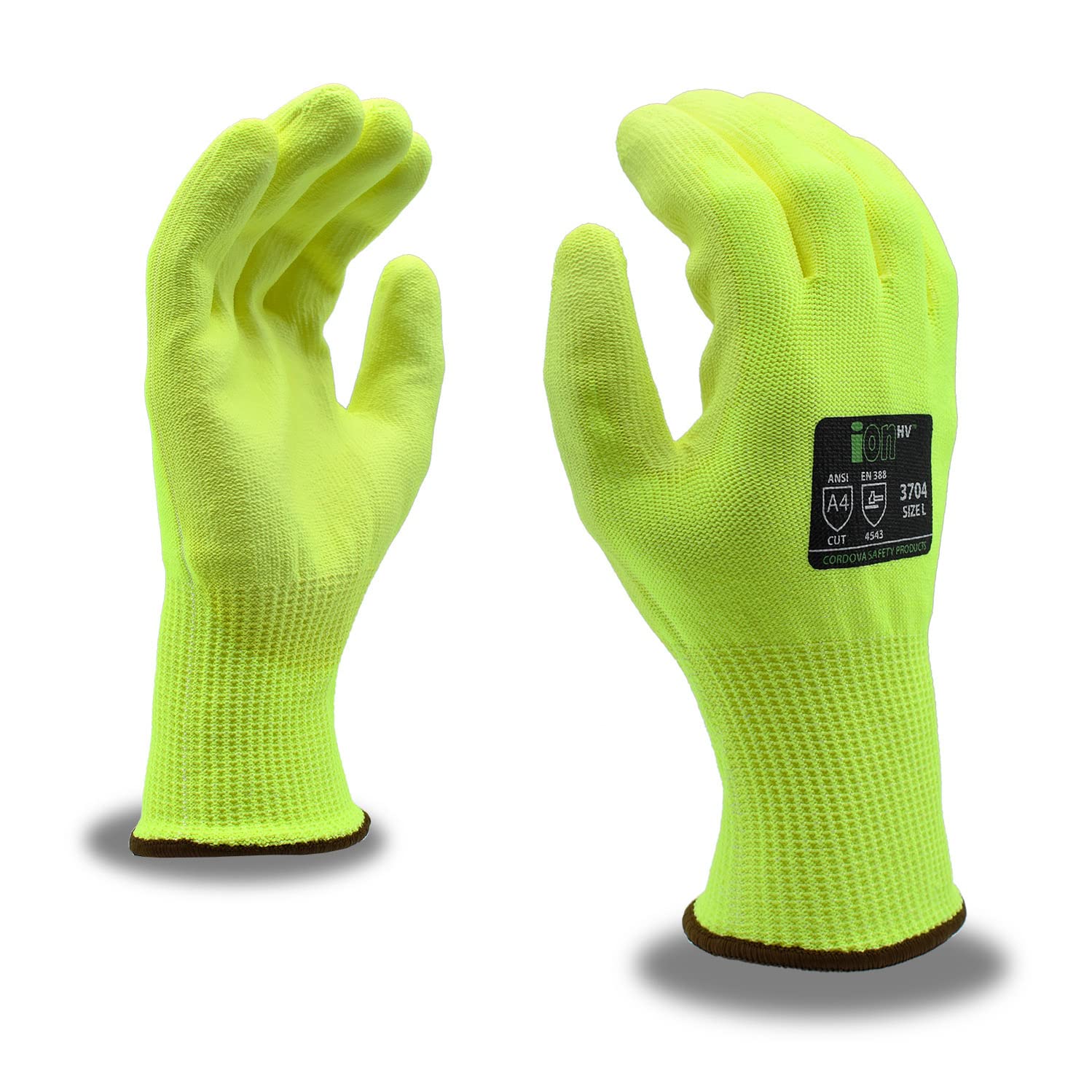 Follow this link to be taken to the product page!
Best Heavy-Duty Wood Carving Gloves
If you're doing intense wood carving work, then you need heavy-duty wood carving gloves to give you the protection you need for peace of mind. Gloves for heavy-duty work are typically made from higher-quality materials and are designed to give you ultimate protection.
No amount of caution is enough protection when dealing with serious wood carving machinery and techniques.
The anti-cut Cordova Commander gloves will keep you safe. They're ANSI Cut Level A7 certified for protection from serious cutting hazards. They're made with high performance polyethylene, a material that can resist sharp hazards. If that's not enough, there's also glass and steel fibers that stand as an extra line of defense from dangers in wood carving. 
Oh, and there's a sandy nitrile coating on the palm for extra grip! Never lose hold of your machinery or tools.
Due to the thicker materials made to protect your hands, these gloves are only 10-gauge. That means that there are only 10 stitches on each square inch. While this makes the pair a bit less flexible than other gloves out there, they are still viable for use at work.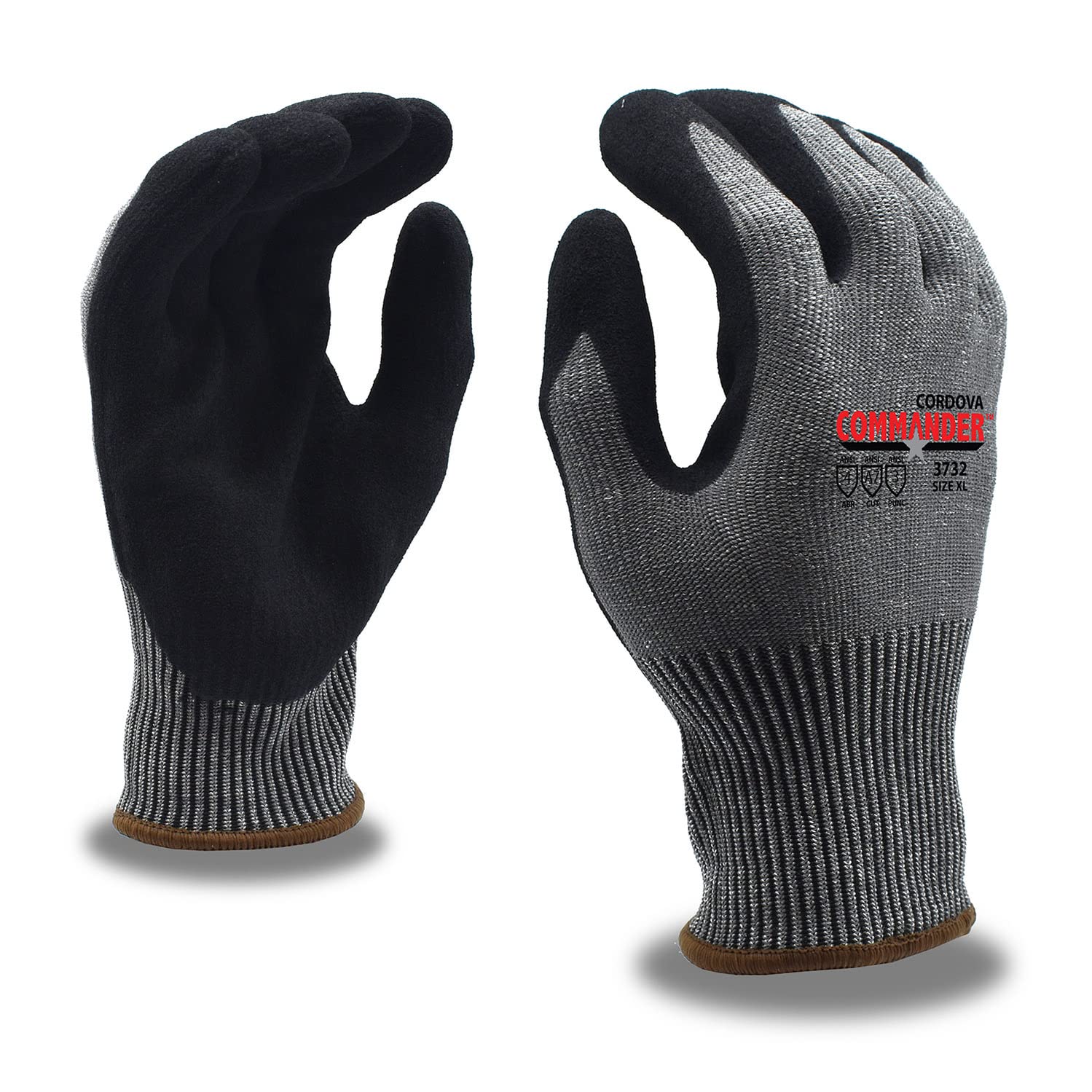 Click here to be taken to the gloves on Amazon.
Best Overall Wood Carving Gloves
If you want the perfect balance of protection and dexterity, then look no further.
The anti-cut Cordova Machinist gloves are protective and flexible. They're ANSI Cut Level A4 certified for protection from medium cut hazards.
They're made with HPPE and glass fibers for awesome protection. They're 13-gauge for superior dexterity. Nitrile coating on the palm enables better grip as well.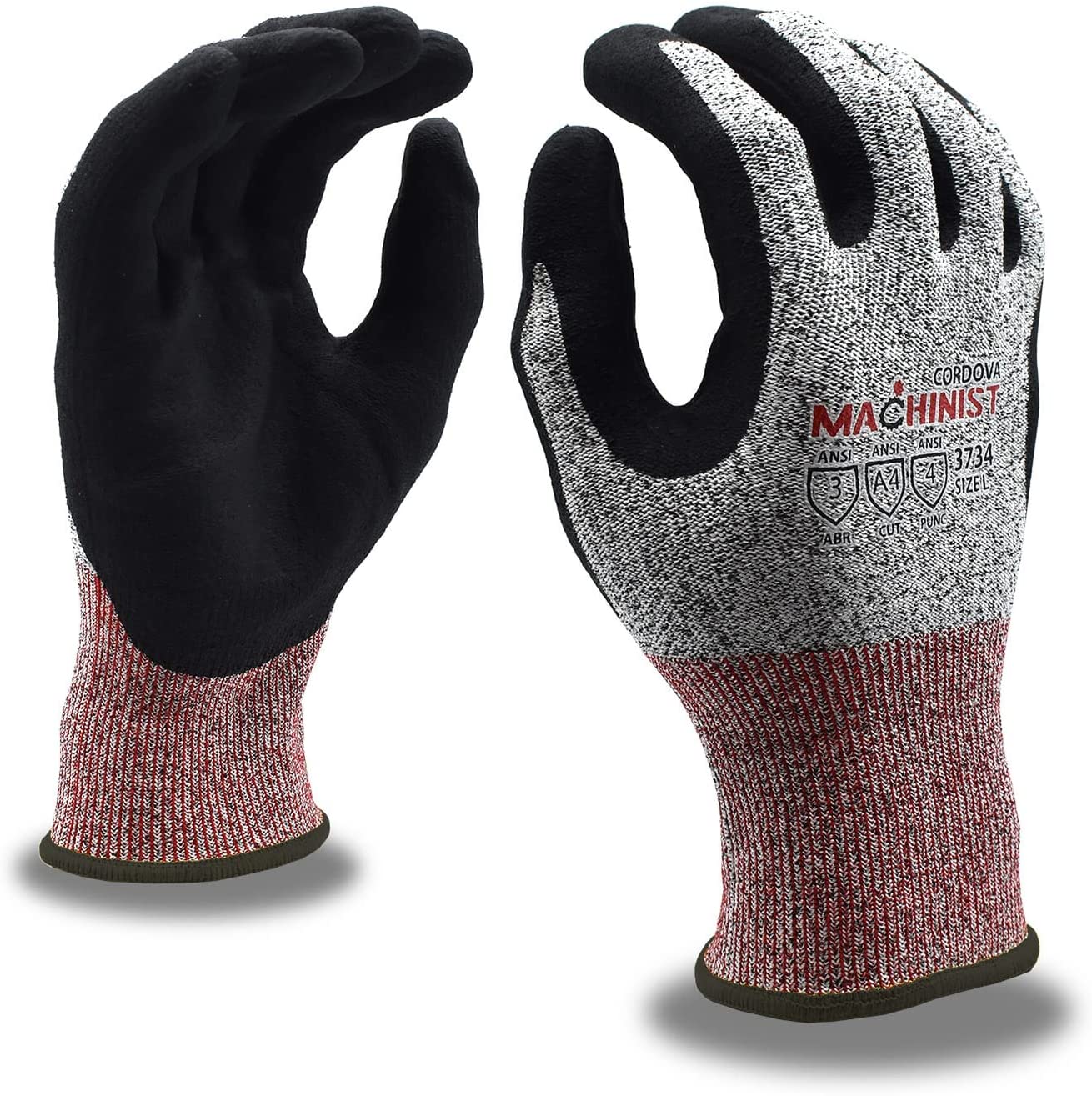 Click here to buy these gloves on Amazon.
Choosing Wood Carving Gloves
Choosing the right pair of gloves for wood carving is important as every pair is unique and different from one another.
Here are some important things to know about when it comes to choosing the perfect pair:
ANSI Cut Level
The American National Standards Institute (or ANSI) has established a scale to measure the cut resistance of gloves. The cut level scale ranges from A1 to A9, with A9 being the highest level of cut resistance. Gloves are tested using a blade cutting machine and are rated based on the number of cycles required to cut through the material. The higher the cut level rating, the more resistant the gloves are to cuts and other sharp object threats.
Before making a purchase, check the ANSI Cut Level to make sure that you're getting the protection you need for the work that you're going to be doing.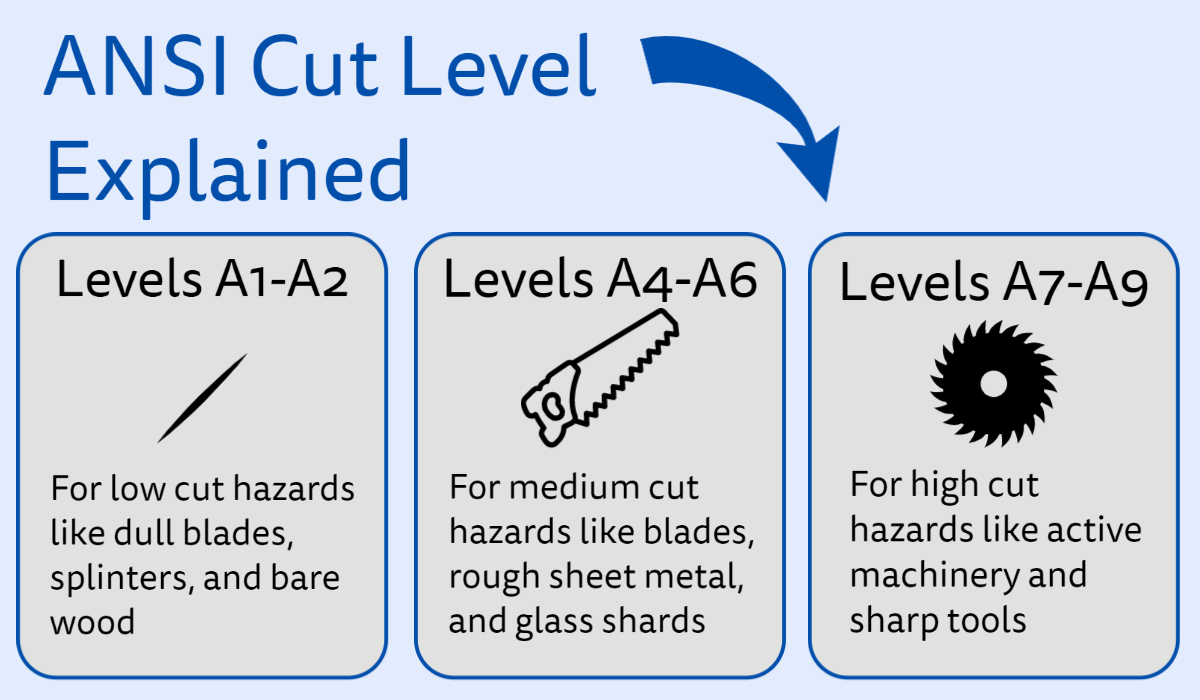 Flexibility
Wood carving gloves need to be flexible and suitable for a wide range of movements. You might see a lot of talk about the "Gauge" of a glove. The gauge is the number of stitches per square inch. The higher the number, the higher the number of stitches per square inch.The more stitches a glove has, the more flexible it is and the better it will conform to the shape of your hand.
Thumb Guards
Many wood carvers like to use thumb guards. Thumbs are actually one of the most commonly injured parts of the hand. Thumb guards provide extra protection against cuts and blisters while working.
Some might feel like thumb guards are overkill. The guard in addition to gloves might cause discomfort and restricted movement. It's better to be safe than sorry, so wearing a thumb guard is recommended if it doesn't get in the way. The gloves should always be the first priority. Any thumb guard should be:
Durable: They need to last long and keep up with you.
Comfortable: They should fit snugly on your thumb even when inside of a glove.
Protective: It obviously needs to be able to save the day from a horrible accident.
By using a thumb guard, you can reduce the risk for injury while wood carving.
The Best Safety Glasses for Wood Carving
In wood carving, it's important to protect your eyes from flying debris and sawdust. 
Safety glasses offer protection that can prevent serious eye injuries while carving. Let's take a look at some of the best eye protection on the market.
Best Safety Goggles for Wood Carving
If you wear prescription eyeglasses, then wearing another pair of safety glasses on top of that might not work out for you. These goggles are a great option for keeping yourself safe while still being able to see.
The Cordova Anti-Fog Safety Goggles are great for getting work done. The anti-fog lens allows you to get things done even in foggy weather. The frame is made of clear PVC, so that none of your vision is obscured.
Click here to check these out on Amazon.
Best Safety Glasses for Wood Carving
These glasses from Cordova are perfect for wood carving. The indoor-outdoor lens lets you see clearly no matter where you are. The lenses are also anti-scratch for long-lasting use. Plus, they're 99.9% UV resistant! 
But protection is what matters the most. And these glasses have got it. A thick frame with integrated side shields ensures that no flying debris will be going anywhere near your eyes.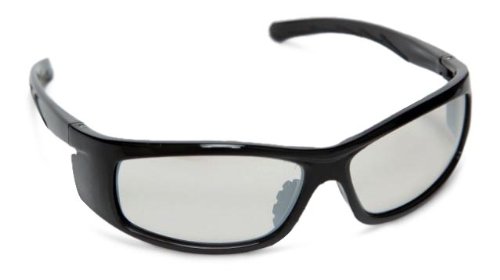 Follow this link to the product page on Amazon.
Conclusion
Choosing the right protective gear is essential when wood carving. It's better to be safe than sorry!
---