You don't need to feel overwhelmed if you have just made yourself familiar with a blank canvas. Seriously, don't allow the plethora of tools and colors and equipment to make you think that painting might not be your cup of tea. Even if it seems like that, know that painting can be your bucket of paint (pun intended!) with DIY ideas. Explore the colorful world of painting with these cool DIY Canvas Paintings Tutorials Explained for Beginners.
Painting is a very calm and relaxing activity. So don't worry about being an amateur. You don't need to be an expert in painting to create stunning art pieces. And you don't even need to splurge too much on painting equipment. Just get the basic essentials and learn a few basic tips and rest of the things we will figure out on the way.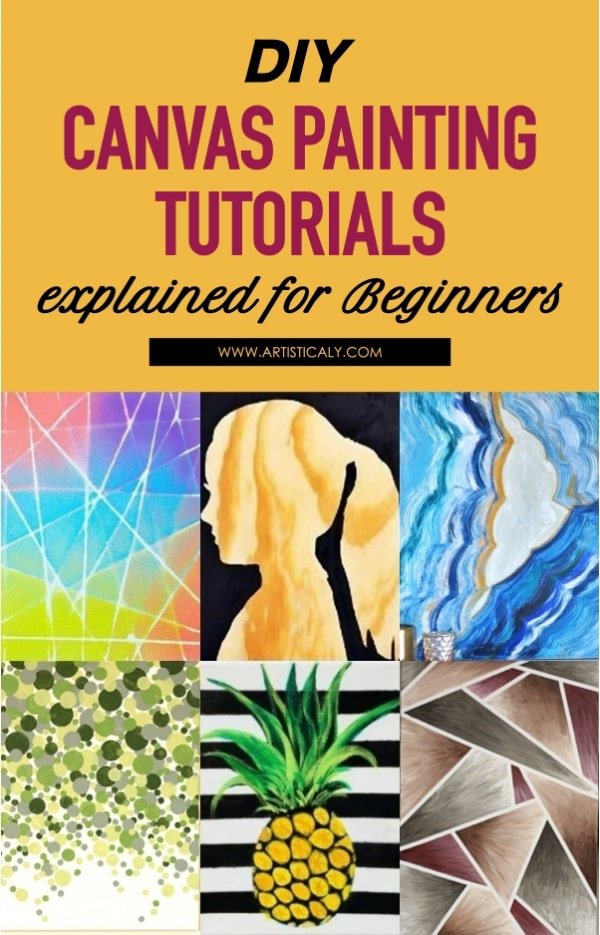 DIY Canvas Paintings Tutorials Explained for Beginners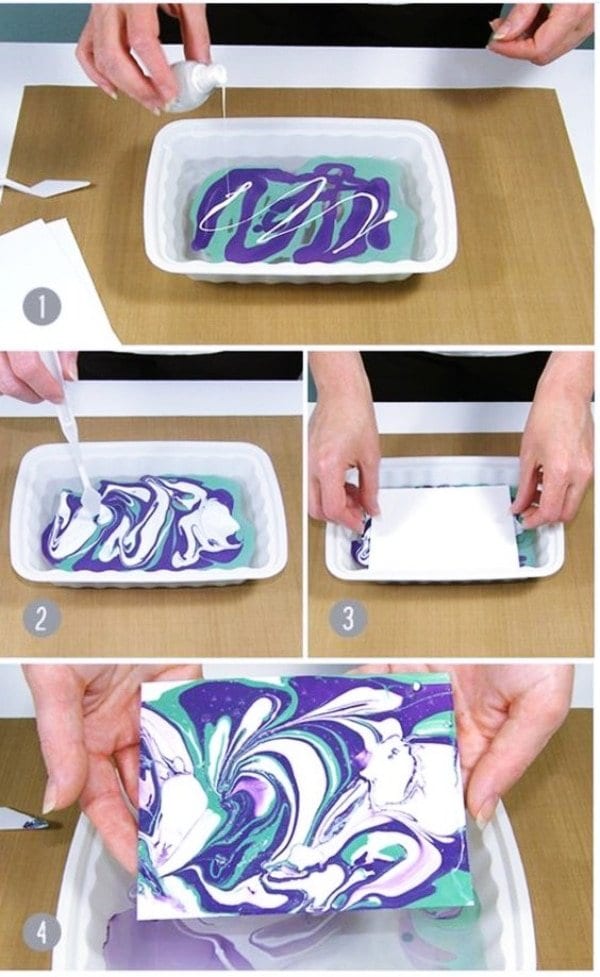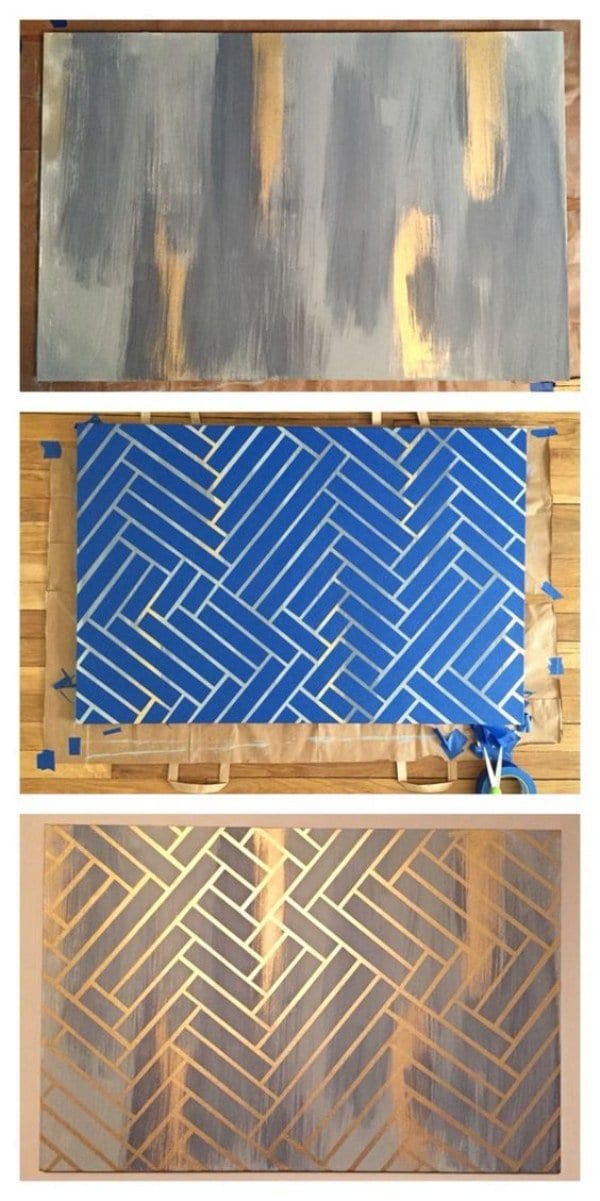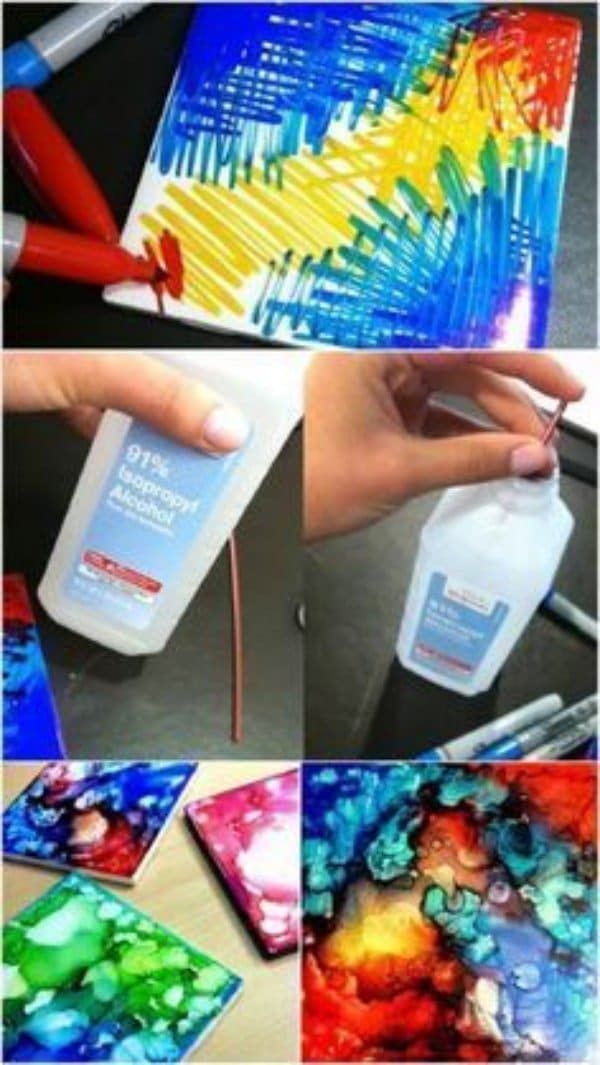 Geometric Dot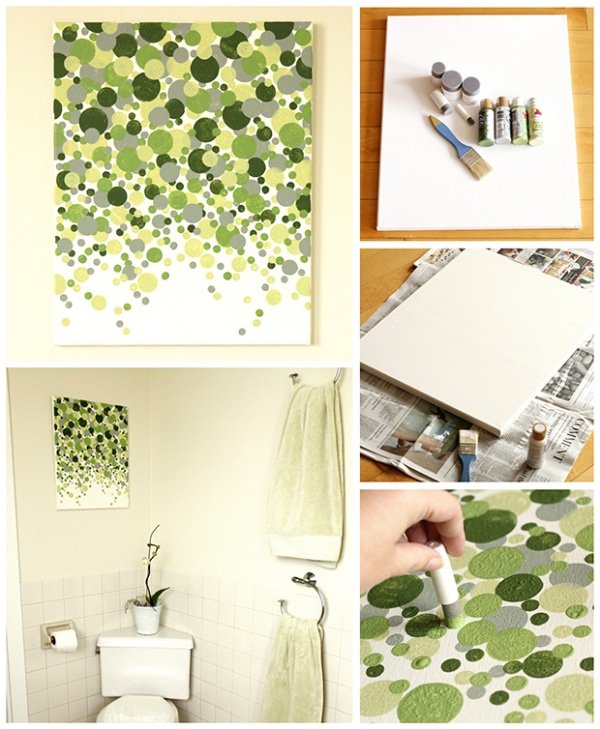 One of the coolest and easiest paintings is this one where all you need to do is make dots of varying sizes and colors on the canvas. Sounds easy, right? Because it is! So easy that anyone can make it.
To create this painting, you would need about 4-5 different paint colors including one for the base, a giant canvas and some circular pouncers. Next, apply a coat of paint as your base color. Once the paint is dry, dab your pouncers into the paint and then all over the canvas in a lovely texture.
Gradient Painting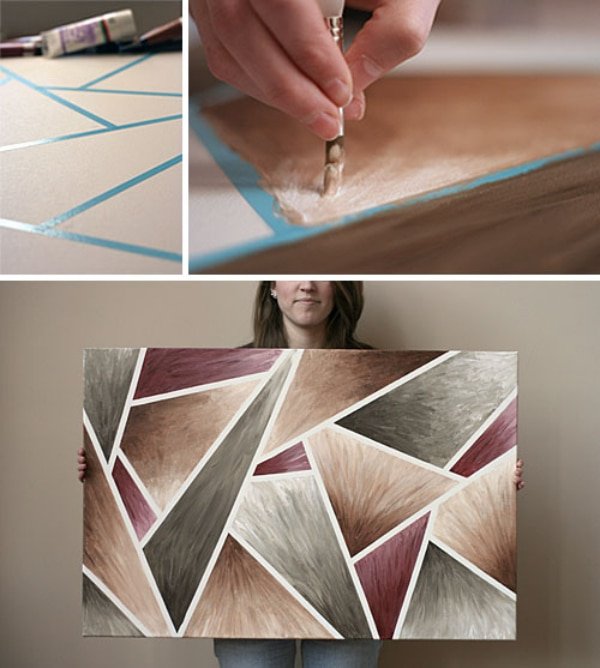 You would be amazed by what you can do using masking tape when it comes to painting. The possibilities are endless. This gradient painting is one such example which you can make only in a few hours and give it a proud place on the wall of your living room.
Just paint a base color on the canvas and once it is dry, tape your canvas in whatever way you desire. Now comes the time for you to paint a gradient of the colors you are using in each of the taped sections. Let the paint dry and then remove the tape. You have a pretty gradient painting ready to flaunt.
Chevron Painting

This is another spectacular example of painting using tape with an added item of a toothbrush. Yes, you read that right. This beautiful chevron textured painting is a painters dream who love all things DIY.
Stock up on a canvas, some colors, white paint for the base, painter's tape and a toothbrush or maybe more than one. Next, go wild with the colors and splash the paint all over the canvas in varying strokes. Let it dry and then put tape on the canvas in a neat pattern. After that use that toothbrush and cover the areas not covered with tape in white paint. Don't remove the tape unless the paint is dry.
Mandala Painting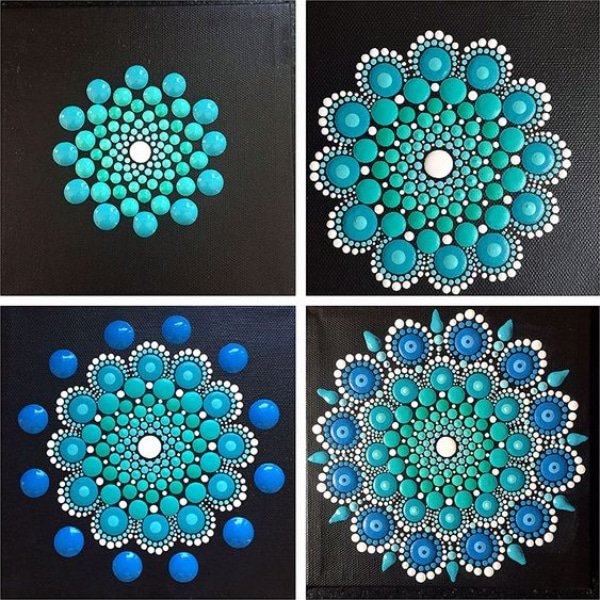 Mandala art is pretty impressive but also very intricate to paint for the beginners. But who said you have to be perfect. Just some doodling is what you need to do except for this time you will be using acrylic paints rather than pencil and canvas for the surface.
Begin by painting a nice gradient of paint on the canvas. Next use a smaller brush with a pointed tip and start painting a design. That's it. Just stick to the design you have taken for reference and you would definitely end up with a nice mandala painting.
Pretty Pink Roses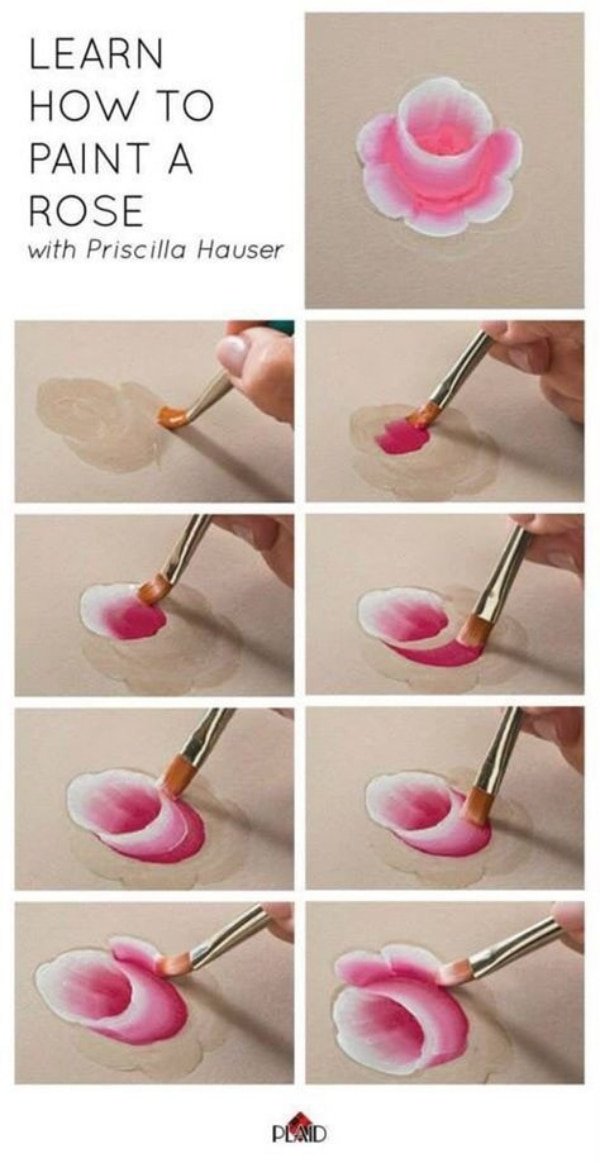 If it's painting you are doing and that too as a beginner then what could be a better thing to paint than some pretty pink roses which are simply breathtaking to look at. Floral art is always in rage but it is also quite difficult to create. After all, catching the beauty of flowers can be a bit tricky. But this painting tutorial from Pamela Groppe will make it easier for you to paint roses.
You would need paints in colors of pink, white and green. But you can paint the roses in any other color. You could start by painting leaves around the area of the size you want your rose to be. Then move on to the roses by first creating its back bowl and then with careful strokes of your brush paint the second layer of rose bowl, arms outside the bowl and the petals.
Dotted Rainbow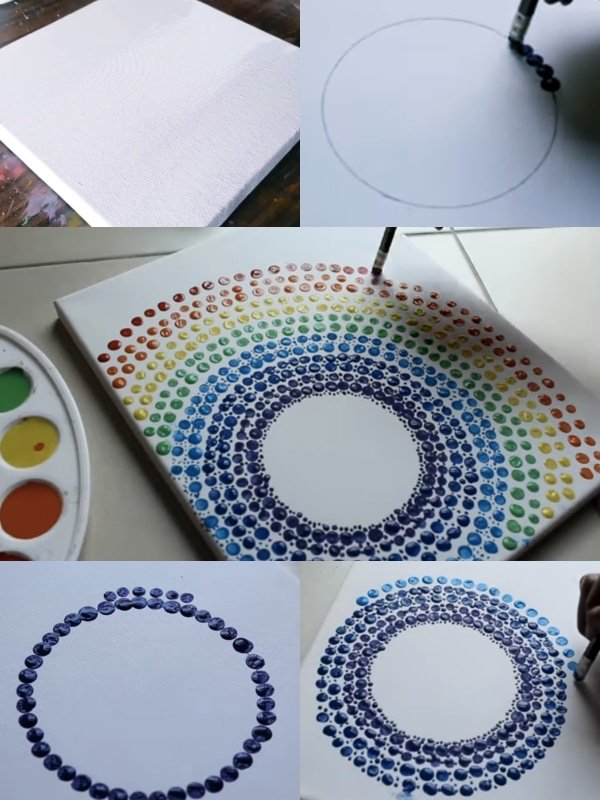 It seems that we can't get enough of dots. Probably because it is easily made using almost any circular objects. In this case, you would need a pencil, the one with the rubber on its back would be even better. And paint in different colors. Next all you need to do is dab the pencil into the paint and then onto the canvas. Switch the sides of the pencil and keep changing colors after every few rounds and you would have a beautiful rainbow on your canvas.
Agate Inspired Painted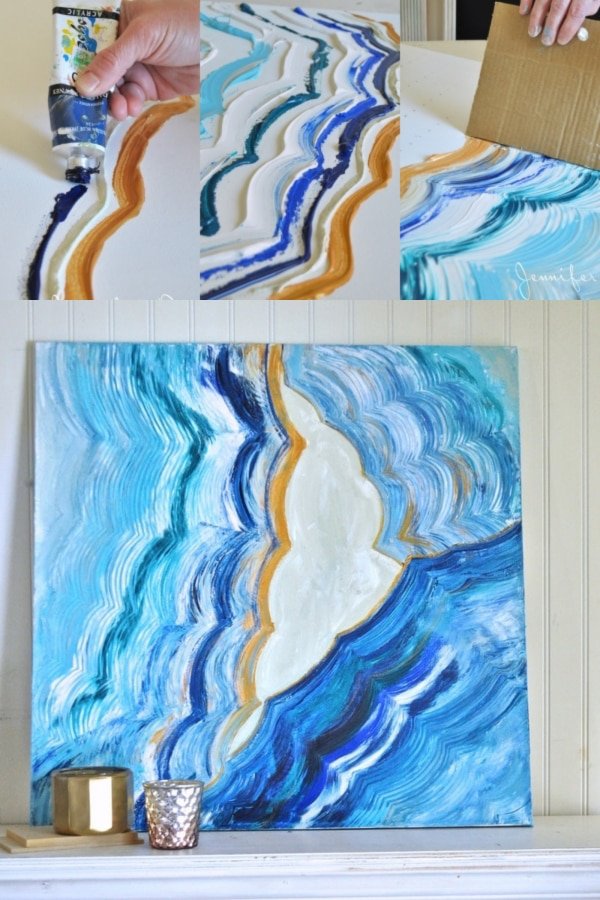 Inspired from the agate rock, here you could create a modern abstract art which is messy but that is the reason why it looks so beautiful. To create this lovely art, you would need some paint tubes, a piece of cardboard and lots of newspapers because things would get very messy.
Start by drawing lines of paints on the canvas in the pattern of your choice. Next, use the cardboard flap and drag it down from one edge to the other with even pressure in a wavy movement. That's it. Make nice and clean wavy lines even if your hands get dirty.
Abstract Painting
Geometric patterns are easy and fun to play with while painting. This abstract painting is one such example that shows you don't need to be an expert to create amazing art.
You would need tape and a giant canvas which you would need to cut into three pieces. Apply tape on the back of the canvas pieces and join them temporarily. Next, apply tape randomly on the canvas and then start filling the sections with about 2-3 coats of paint. When the paint is all dry remove the masking tape from the front as well as from the back of the canvas pieces and your painting is ready.
Easy Landscape
It is so not easy to paint a landscape. But if you look at it, it is not so difficult either. Here is how you can paint an easy yet lovely landscape.
Start by applying a coat of white paint on the canvas. Next, you need to draw lines of acrylic paint right in the middle of the canvas. Pick the colors that you would want in your landscape. Start from the color in the center by spreading it outward and then do the same with all the colors. With light strokes blend the colors using a brush. Give it a touch of your creativity and your landscape will be ready to steal all the attention.
Fluid Painting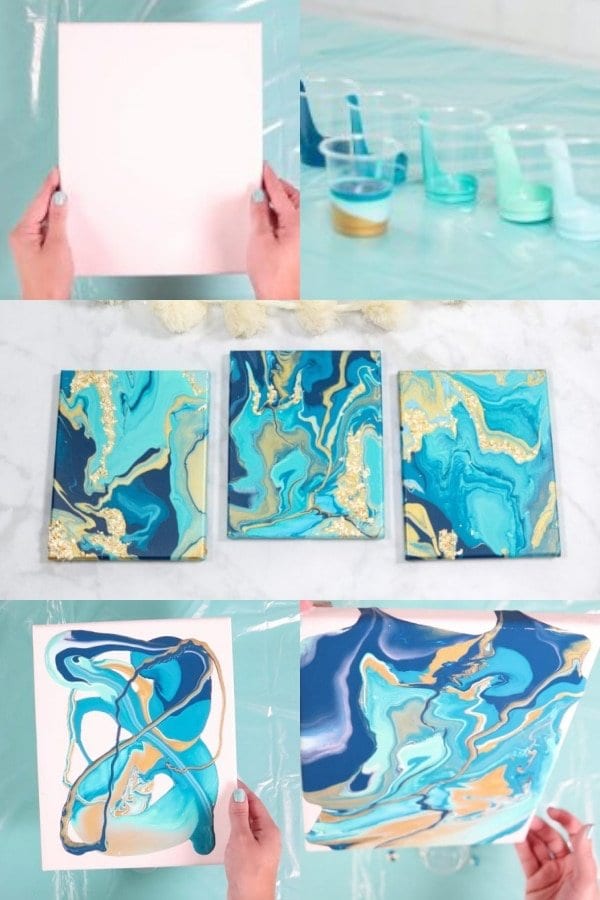 Fluid painting is fun because all you need to do is to pour the paint onto the canvas. It is a bit messy but painting is all about getting messy. Wink!
To get started with this lovely fluid painting you would need different colors of acrylic paint and floetrol that make the paint flow easily. Next, you would need to pour white paint over the whole canvas and spread it using your hands. Make sure you have gloves on. Now you need to create puddles of paint colors on the canvas and then use a heating gun or blow dryer to create an abstract pattern on the canvas.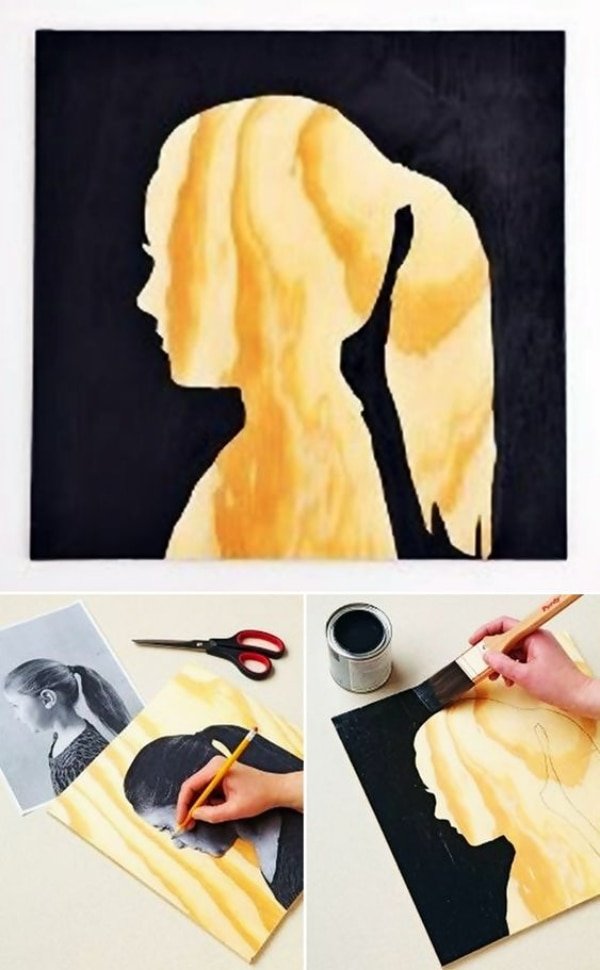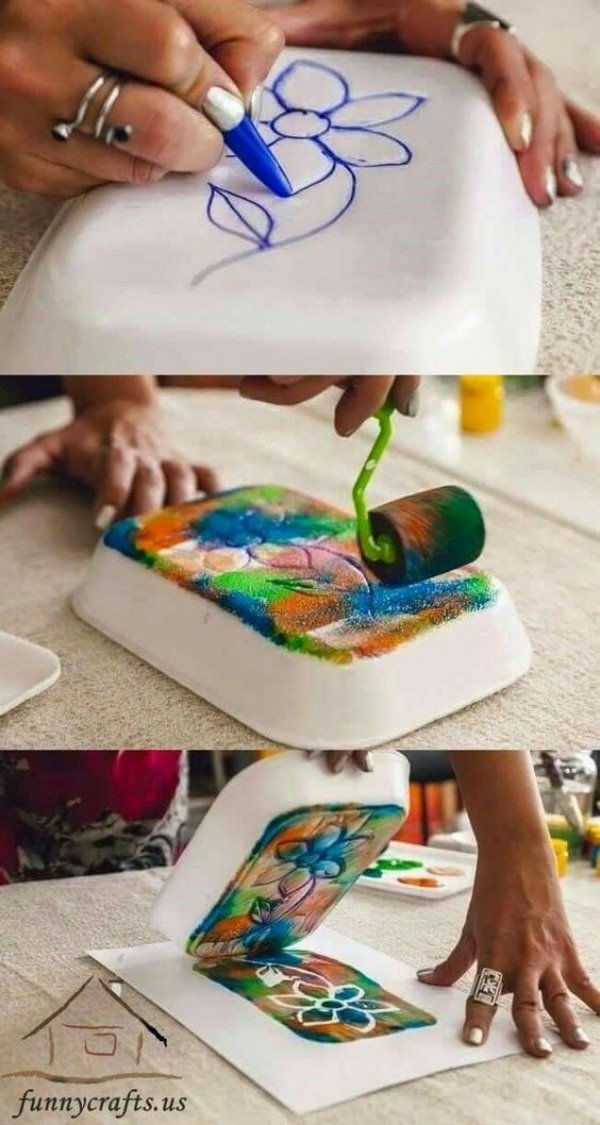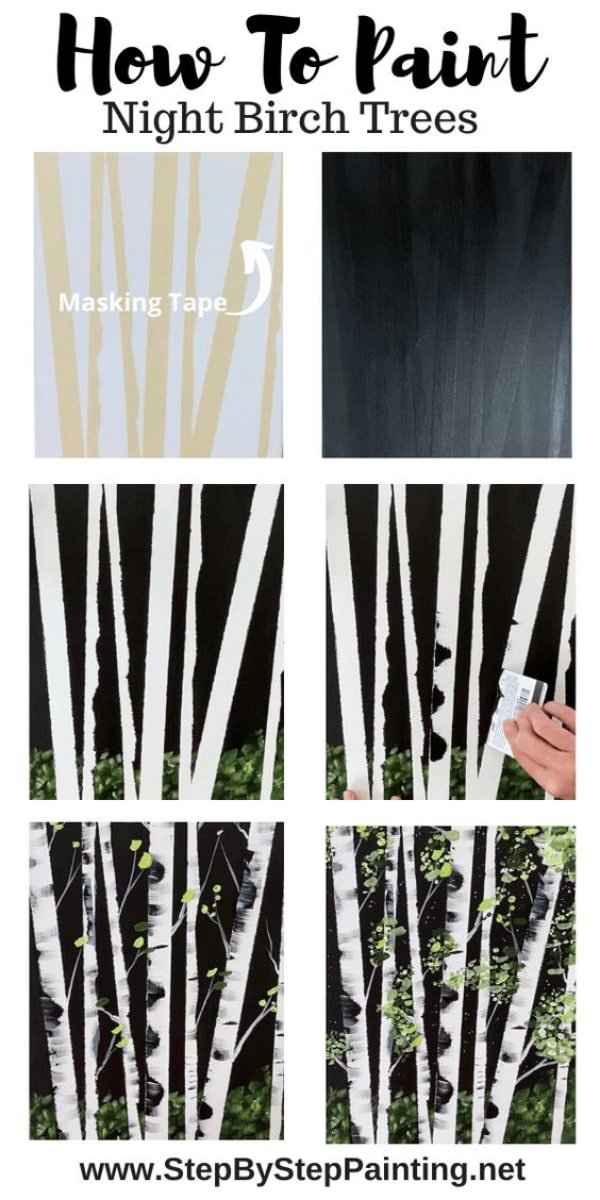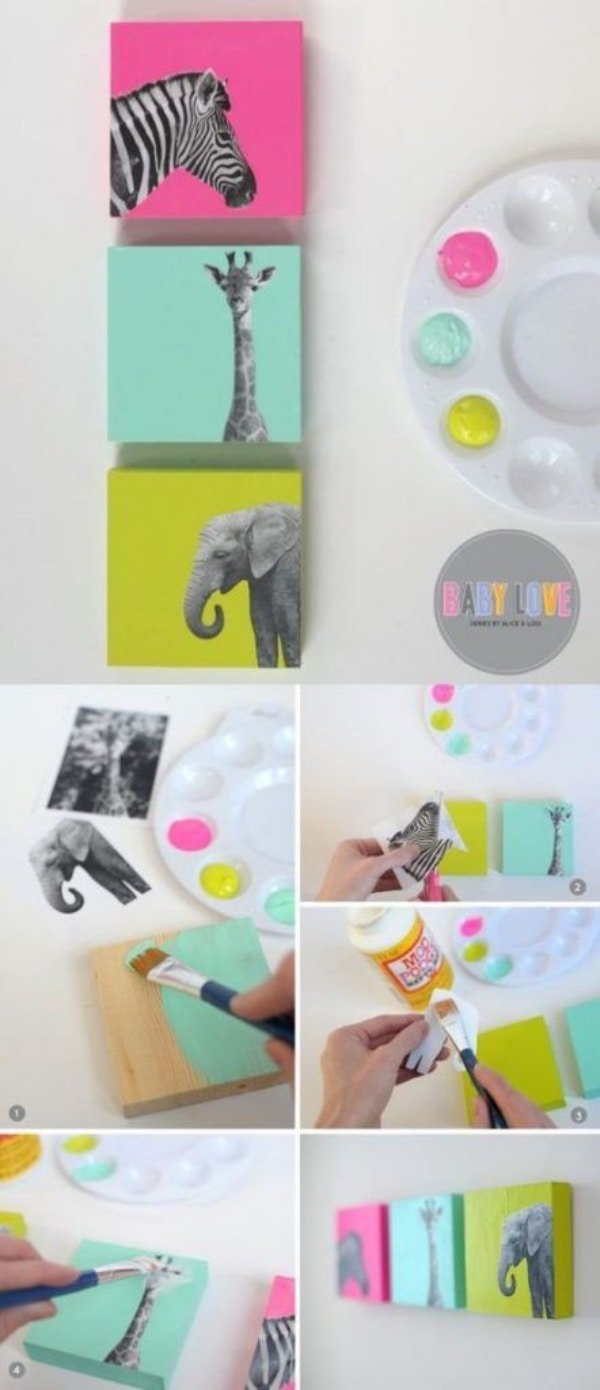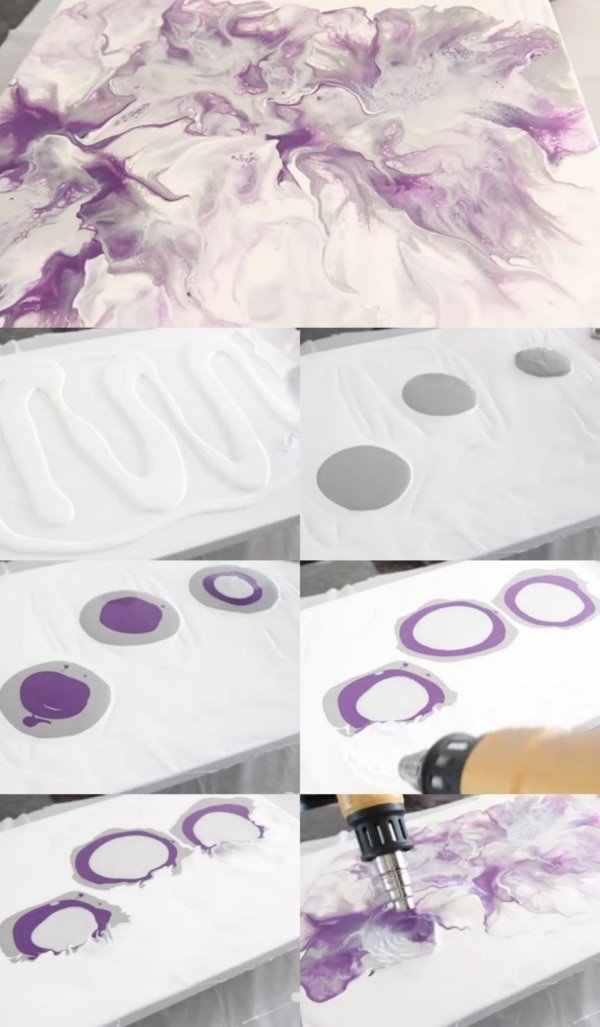 Don't worry if your painting does not come out as perfect as you had hoped. It's a learning process and you have just begun. With time you will do even better until then keep using such DIY ideas and spend some relaxing time with painting.
---