Painting with acrylic is something that every artist should try out. Acrylic paint could produce beautiful works of art. There are so many unique properties to pieces created with acrylic.
Acrylic paint is flexible, dries quickly, lasts long, has varying consistencies, and are fitting across many different styles and techniques. That's just scratching the surface of it, too!
But you might need to adjust your toolset if you want to start using acrylic paint or continue developing your skillset.
Getting a good set of acrylic paintbrushes is important in using acrylic paint. So today, we're going to go over the best acrylic paintbrushes of 2022. But first, let's go over some facts about acrylic paintbrushes that are important for you to know.
About Acrylic Paintbrushes
Artists have a lot of questions when it comes to buying a paintbrush set for acrylic paint. We're going to go over some of the basic things you should know before buying a set of paintbrushes.
Synthetic vs. Natural
Brushes are either made of synthetic or natural materials. You could use both types with acrylic paint but we strongly recommend using synthetic bristles. Natural bristles (like hog bristle and horse hair) are favored when it comes to oil painting because of the paint's heavy texture. However, brushes with natural bristles could be easily damaged by acrylic paint over time. Plus, it's harder to clean them up.
Synthetic bristles are much better for acrylic painting. They're typically made of nylon or polyester. These bristles work better with acrylic resin. They're also easier to clean and not susceptible to water damage. 
About Bristle Tips
There are different shapes for bristle tips. Most sets have 8 main shapes, each suited for a different purpose.
To simplify all this, there are two main distinctions between bristle shapes: rectangular/flat, and round/pointed.
Flat or rectangular brushes have square, flexible ends and can hold a lot of paint. When used flat, they can make long strokes and are well suited to blending and painting in large areas. The tip and sides can also be used for more delicate lines and small touches.
Flat/rectangular bristle shapes have flexible ends that can hold a lot of paint. The flat brushes are good for large areas and sharp lines. Fan brushes are great for blending. They can be used for textures.
Round/pointed bristle shapes are better with finer details and bold strokes. Round brushes are the most versatile brush in the main kit. Filbert brushes are great for blending. The sharper brushes are best for fine detail and thinner lines.
Size
The brushes have different sizes to them. Numbers are assigned to the sizes and range from 0 to 24.
Small sizes (0-6) are best for detailed work. Mid-range (6-14) are best for underpainting, shading, and general coloring. Large sizes (greater than 14) are best for bold strokes.
Keep in mind that one manufacturer's sizes might be different than another one's. If you're serious about creating art, then make sure to check the kit's measurements in length, diameter, and width of the brush.
Care
Caring for acrylic paintbrushes isn't too different from caring for typical brushes. Here are some quick tips:
Never let paint rest on the bristles
Clean with two jars of water
The first jar of water takes off pigment and the second is for a deeper rinse
Wash with warm soapy water or a brush cleaner once your session is done
Store brushes with bristles facing up
This set of brushes is widely regarded as the best for acrylic paint. The set includes 6 brushes in sizes 0, 2, 4, 6, 8, & 10. They come in a beautiful wooden box.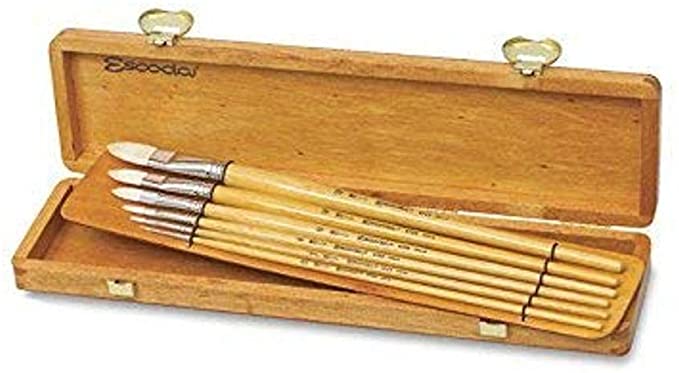 The bristles themselves are extracted from white hogs found in the Chungking region of China. The handles are nicely crafted by hand.
The brushes offer a nice flow, precision, and control. You're immersed in a creative mindset with this set.
Check out this set on Amazon by clicking here.
If you're a student looking for a great set of acrylic paintbrushes, then Liquitex has got you covered.

These brushes have a professional feel to them despite their price point. The long-handled, white nylon brushes are lightweight and easy to control. The bristles are neat and sturdy. 
There are 6 different options in the box as well. The set is versatile and can help any beginner learn the basics of painting with acrylic. 
The long handles mixed with the soft bristles make for a perfect pairing.
If you're interested in this paintbrush set, then check it out on Amazon.
This set is the most versatile on this list. It includes 11 synthetic paintbrushes and 4 hog hair paintbrushes that work great with acrylic paint. They also work with other types of paint so you're not just limited to using them with acrylics.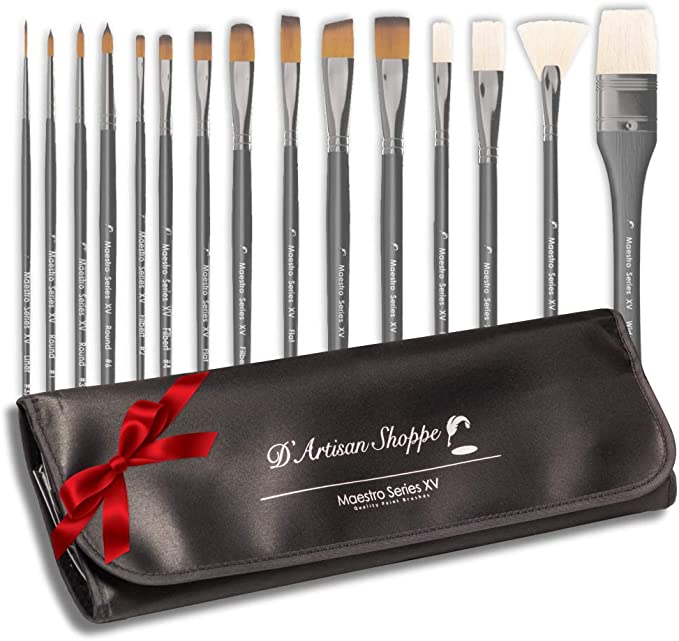 The brushes are durable. The bristles stay in place and can take a lot of usage before wearing down. The number of options in this set alone is worth the investment. Plus, it comes with a nice carrying case!
Click here to visit this set's Amazon page.
This is a more premium option that doesn't empty your wallet. This set has 15 brushes, which provides you with a nice number of options.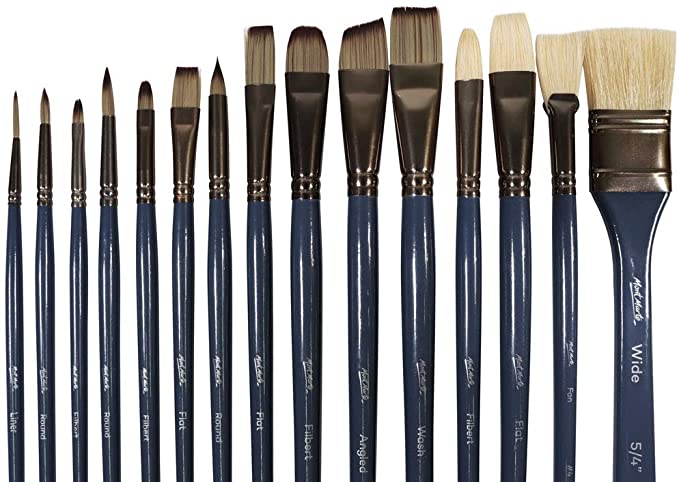 These brushes have a nice weight to them which provides great control. The bristles are consistent and their shapes and nicely maintained. 
Click here to check out the set on Amazon.
Final Thoughts
Finding a paintbrush set for acrylic paint isn't too intimidating once you know what you want in a set. 
Regularly cleaning and taking care of your set will ensure a long lifetime.
---